High Peaks Art Festival
Celebrating our
20th Anniversary in 2024!
The 20th Annual High Peaks Art Festival is looking to be held July 27, 2024; but this date mat change. The Festival is a beloved community event, enthusiastically supported by local residents, businesses and visitors.

( Photo:
Artist Award sponsor Deb D'Andrea awards artist Julie Glassman
Best of Jewelry award at the Festival.)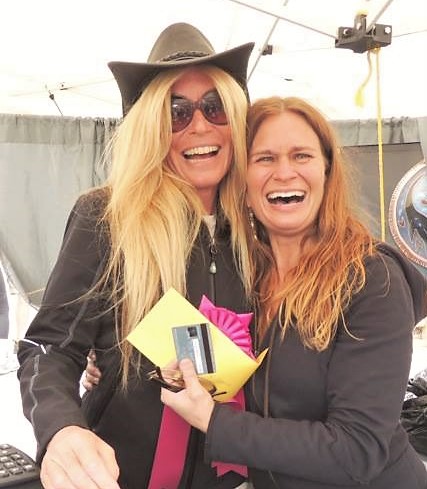 Deb D'Andrea is well known in Nederland for assisting many events, and has been a High Peaks Art Festival volunteer and Artist Award sponsor. She previously volunteered as Volunteer Coordinator and Tent Manager for the Nederland Frozen Dead Guy Days; volunteered at the Community Thanksgiving Dinner, Oktoberfest and the Backdoor Theater.
She is well versed in many different aspects of coordinating events, and in particular knowing the needs of a Nederland event.
Deb worked with Peak to Peak Healthy Communities to present the Nederland Old Fashioned July 4th Festival and Fireworks in 2015, one of the last non-fire ban years.
She serves on the Board of Directors for Peak to Peak Music Association, handling Exhibitor Coordination for NedFest; and Nederland Victory Gardens, handling a variety of tasks. Deb is kicking off the Bizarre Cat Bazaar, a festival in honor of Fred, the historical Honorary Cat Mayor!